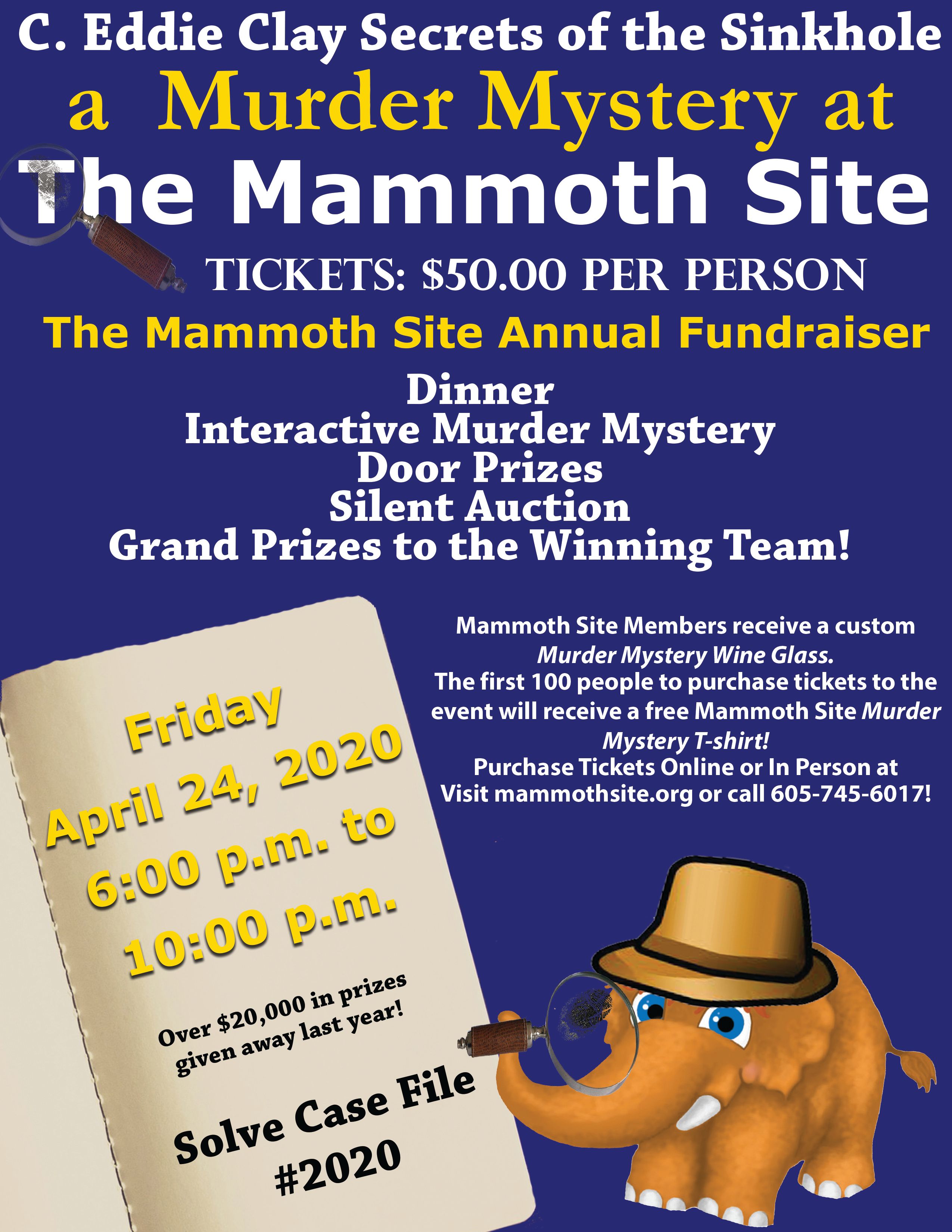 Join the fun Friday, April 24, 2020, from 6:00 p.m. - 10:00 p.m. at The Mammoth Site Murder Mystery Night! This fun night helps The Mammoth Site raise funds for Education and Research. The funds allow the Site to give free field trips to local schools and reduced prices to schools throughout the United States. Contributions from this fundraiser helped thousands of students from throughout the Region visit the Site in 2019, to learn about the Late Ice Age from our working paleontological dig site!
It's a great evening to spend with friends or date night while supporting your local accredited museum. The dinner will be inside The Mammoth Site's Exhibit hall.  The Murder Mystery will take place in different areas around the Site.  
The ticket price of $50.00 per person may be tax-deductible. We also have the opportunity for table sponsors, which costs $400.00, and with that, you will receive 6 tickets to the event as well as advertising for your business.  We also have another opportunity for businesses to become a clue sponsor for the event. The cost for clue sponsors is $250.00.  Clue sponsorship will also include an advertisement for your company with the clue. Table and Clue Sponsors will be mentioned on our social media outlets, newsletter, and annual report.
The first 100 people to purchase tickets to the event will receive a free Mammoth Site Murder Mystery T-shirt.  Last year over $20,000.00 in prizes were given out!
You may purchase tickets online at mammothsite.org, in person at the Site or by calling 605-745-6017.
"In accordance with Federal law and U.S. Department of Agriculture policy, this institution is prohibited from discriminating on the basis of race, color, national origin, age, disability, religion, sex, familial status, sexual orientation, and reprisal." (Not all prohibited bases apply to all programs).
-30-