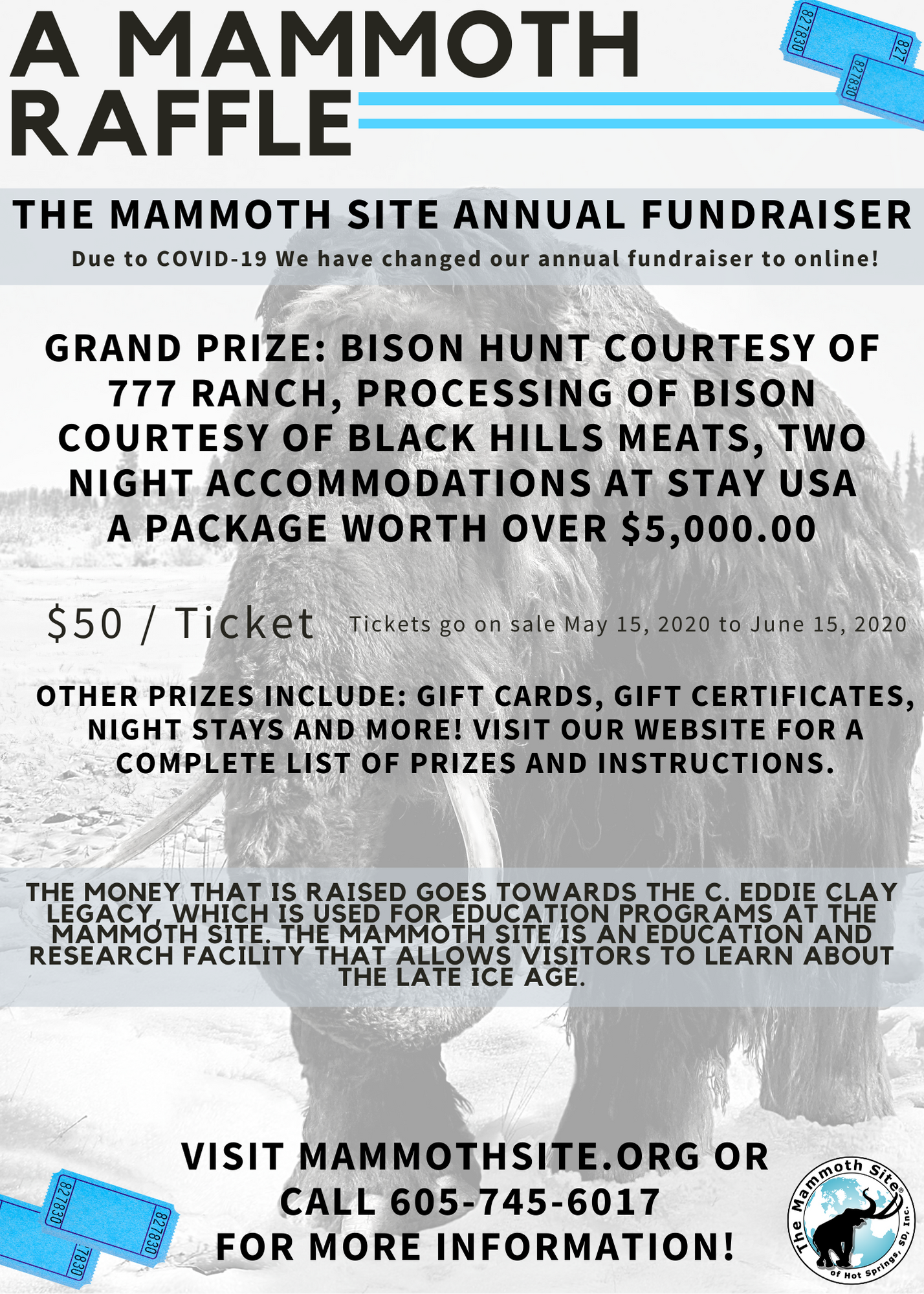 A "Mammoth" Online Raffle beginning May 15, 2020
Support The Mammoth Site by purchasing a raffle ticket starting Friday, May 15, 2020, by visiting www.mammothsite.org! This fun event helps The Mammoth Site raise funds for Education and Research. The funds allow the Site to give free field trips to local schools and reduced prices to schools throughout the United States. Contributions from this fundraiser helped thousands of students from throughout the Region visit the Site in 2019, to learn about the Late Ice Age from our working paleontological dig site!
Due to COVID-19 The Mammoth Site has changed its fundraiser to an online raffle to ensure the safety of our employees and guests.
Tickets go on sale starting May 15, 2020, to June 15, 2020. The cost is $50.00 per ticket with only 1,000 tickets to be sold.
The Grand Prize package is a Bison Hunt Courtesy of 777 Ranch, Processing of Bison courtesy of Black Hills Meats, Two Night Accommodations at Stay USA. This package is worth over $5,000.00.
Other prizes include Gift Cards, Gift Certificates, Night Stays, and More! Visit our website for a complete list of prizes and instructions.
Tickets may only be purchased online at www.mammothsite.org. For more information please contact Bethany Cook at news@mammothsite.org or 605-745-6017.
"In accordance with Federal law and U.S. Department of Agriculture policy, this institution is prohibited from discriminating on the basis of race, color, national origin, age, disability, religion, sex, familial status, sexual orientation, and reprisal." (Not all prohibited bases apply to all programs).
-30-