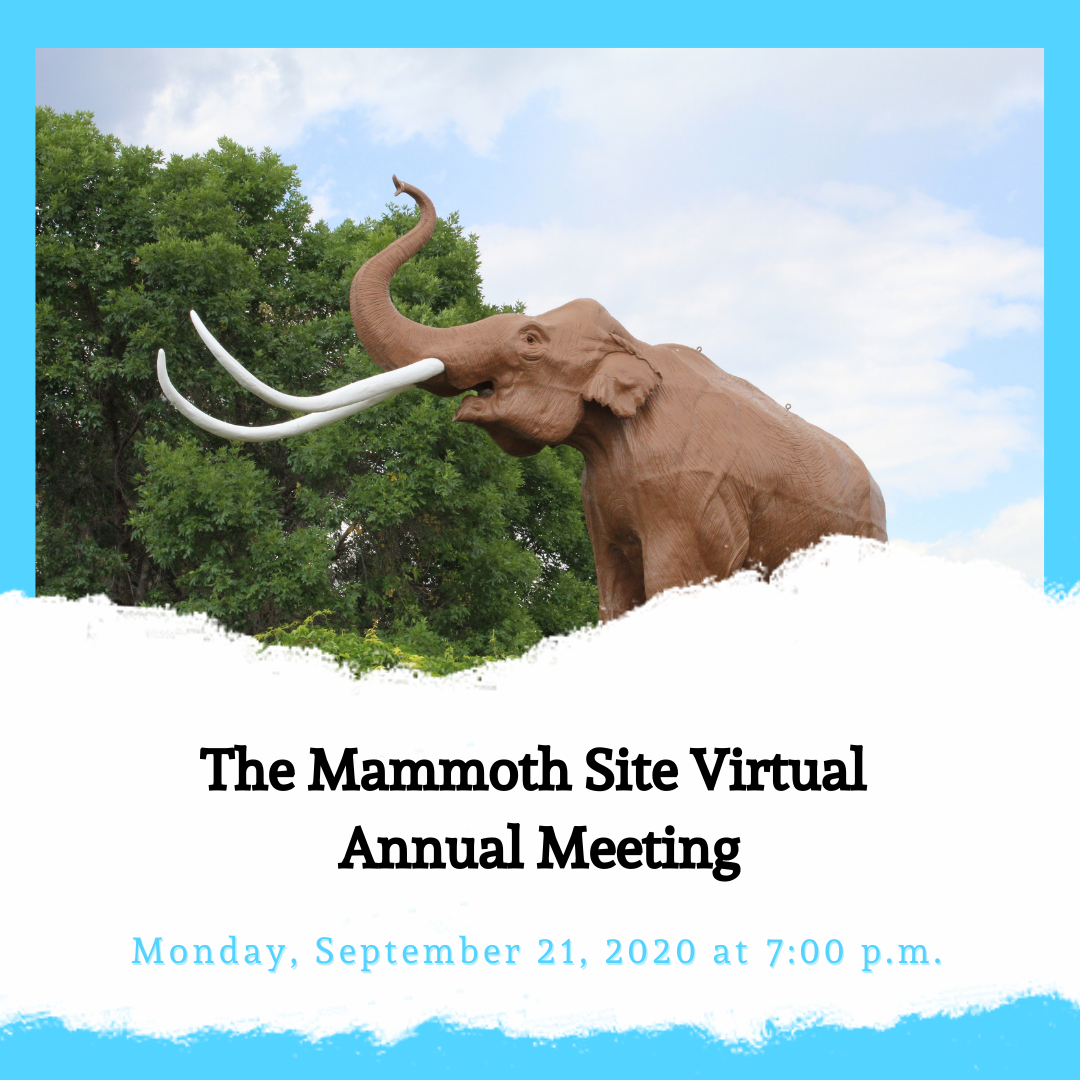 The Mammoth Site Annual Meeting
The Mammoth Site of Hot Springs, SD Inc. Annual Meeting will begin at 7:00 p.m. on Monday, September 21, 2020, virtually for:
Electing such board members whose terms may expire and to fill vacancies on the board;
NOMINATIONS BY THE NOMINATING COMMITTEE
Three-year terms expiring in 2023:
      John Pence, Robert Preuss, Anna Merrill, Amy Spears, and Trish Ladner.
Whereas there were no additional nominating petitions filed by September 18, 2020, the above-named nominees will be elected at the annual meeting.
                        b. To transact such business as may properly be brought before the meeting;
            BY ORDER OF THE BOARD OF DIRECTORS
                                    By:  ANNA MERRILL
                                           Secretary
Due to COVID-19, The Mammoth Site will have the Annual Meeting virtually this year using Zoom.  A link to the meeting will be shared via email. If you wish to attend the meeting virtually, you can request a Zoom link by sending an email to news@mammothsite.org. We will only be able to host 100 guests online.
Please RSVP by September 18, 2020, to receive your meeting link. For more information, please contact Bethany Cook at news@mammothsite.org or 605-745-6017.
"In accordance with Federal law and U.S. Department of Agriculture policy, this institution is prohibited from discriminating on the basis of race, color, national origin, age, disability, religion, sex, familial status, sexual orientation, and reprisal." (Not all prohibited bases apply to all programs).
-30-