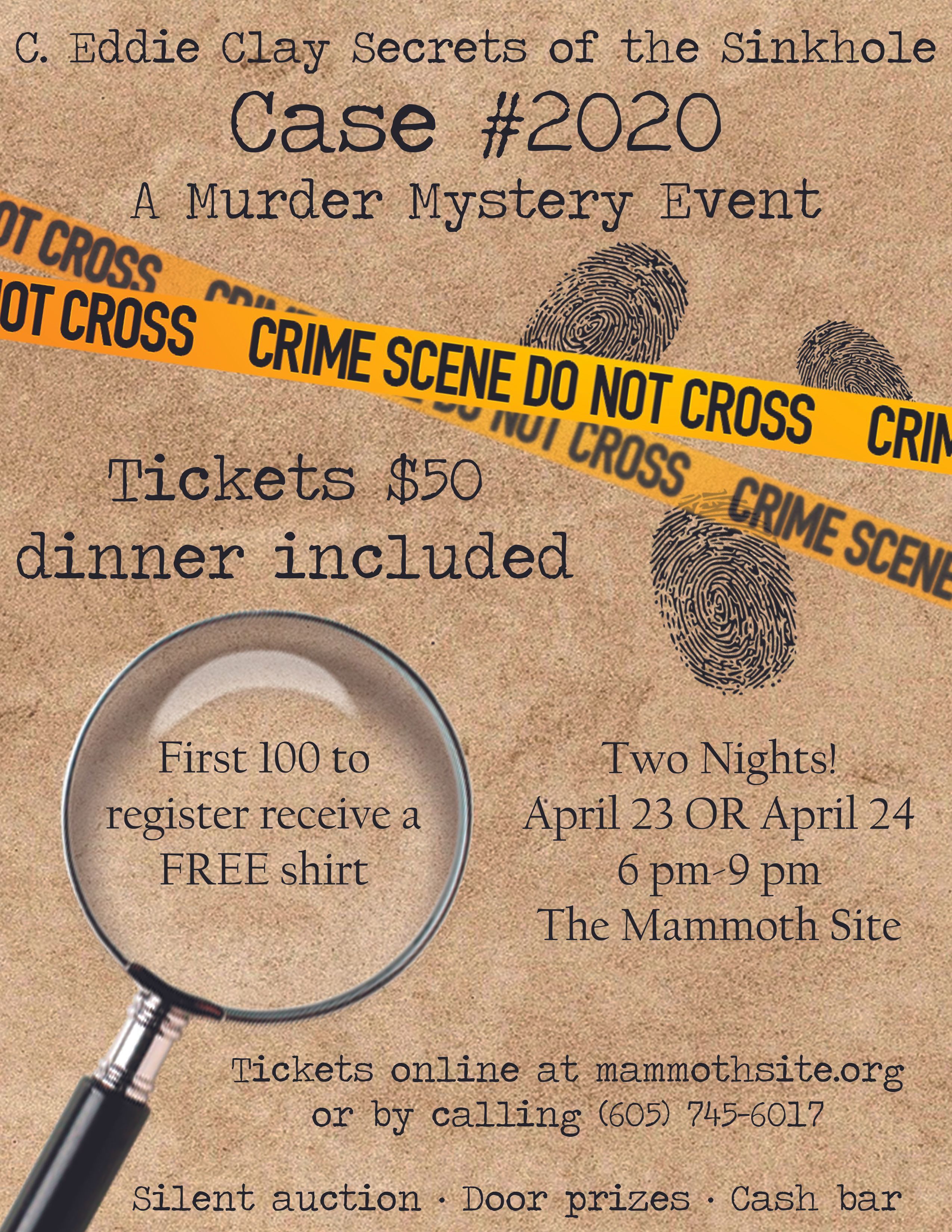 We need you for the C. Eddie Clay "Secrets of the Sinkhole" Murder Mystery Night on April 23 or 24, 2021, from 6-9 p.m. at The Mammoth Site! We still haven't solved case #2020, so mark your calendars for this fun-filled event and help solve this cold case.
Two nights allow for smaller groups, social distancing, and options for either night--you only need to purchase tickets for one night. This is our only annual fundraiser which helps The Mammoth Site raise funds for education and research.
It's a great evening to spend with friends or a date night while supporting your local accredited museum. Your $50 ticket includes dinner in The Mammoth Site's Exhibit Hall, with the mystery taking place throughout the Bonebed. Members receive an extra clue!
Tickets are on sale now! Tickets for the 2021 Murder Mystery Fundraiser can be purchased online at https://www.mammothsite.org/gift-shop.html. The first 100 people to purchase tickets to the event will receive a free Mammoth Site Murder Mystery T-shirt. Tickets are limited for each night so reserve your ticket today.
As a non-profit organization, we offer unique opportunities to partner with us as we carry out our mission of preservation, research, and interpretation of The Mammoth Site. Opportunities include:
Table sponsors, with a donation of $400, receive six tickets to the event as well as advertising for your business. 
As a clue sponsor with a donation of $250 your company is advertised as the clue.
Table and Clue Sponsors will be mentioned on our social media outlets, newsletter, and annual report. As an event sponsor for $2500, you will be front and center with our advertising.
Donations for silent auction items and door prizes are welcome. In 2019 over $20,000 in prizes were given out! Each ticket holder is entered into a raffle with the opportunity to win a variety of door prizes.
For more information, email dianeg@mammothsite.org or call us at 607-745-6017. Help solve Case #2020 so we can move on to the next fun-filled event at The Mammoth Site!