The Mammoth Site conducts a four-week long excavation each summer. Dig weeks are Monday to Friday. Weekends allow you to explore the hills on your own. In the Ice Age Explorers Program, participants spend time excavating in the Bonebed, screenwashing excavated sediments, participating in Bonebed mapping, working in the research lab on a variety of projects, 3D Scanning and 3D Printing and tour the molding & casting laboratory.
Once at the Site, participants will be briefed on safety procedures. The first few days of excavation will be devoted to training in proper excavation techniques, use of various tools and how to move safely through the Bonebed. Training will vary based on assigned tasks and level of prior experience and will continue until participants are confident and skilled enough to complete their assignments successfully. Participants will then be moved to new excavation locations throughout the Bonebed as chosen by the Bonebed supervisors. Tasks may include excavating new areas, flattening pathways, detailing bones or preparing bones for removal. 
The Mammoth Site is a popular tourist destination, so you will be working in view of the public and have the opportunity to interact with our visitors, most of whom are very curious about excavation in the Bonebed.
The 2022 Mammoth Site Excavations
Space is limited to Eight Explorers per week.
Week 1: June 6 - June 10
Week 2: June 13 - June 17
Week 3: June 20 - June 24
Week 4: June 27 - July 1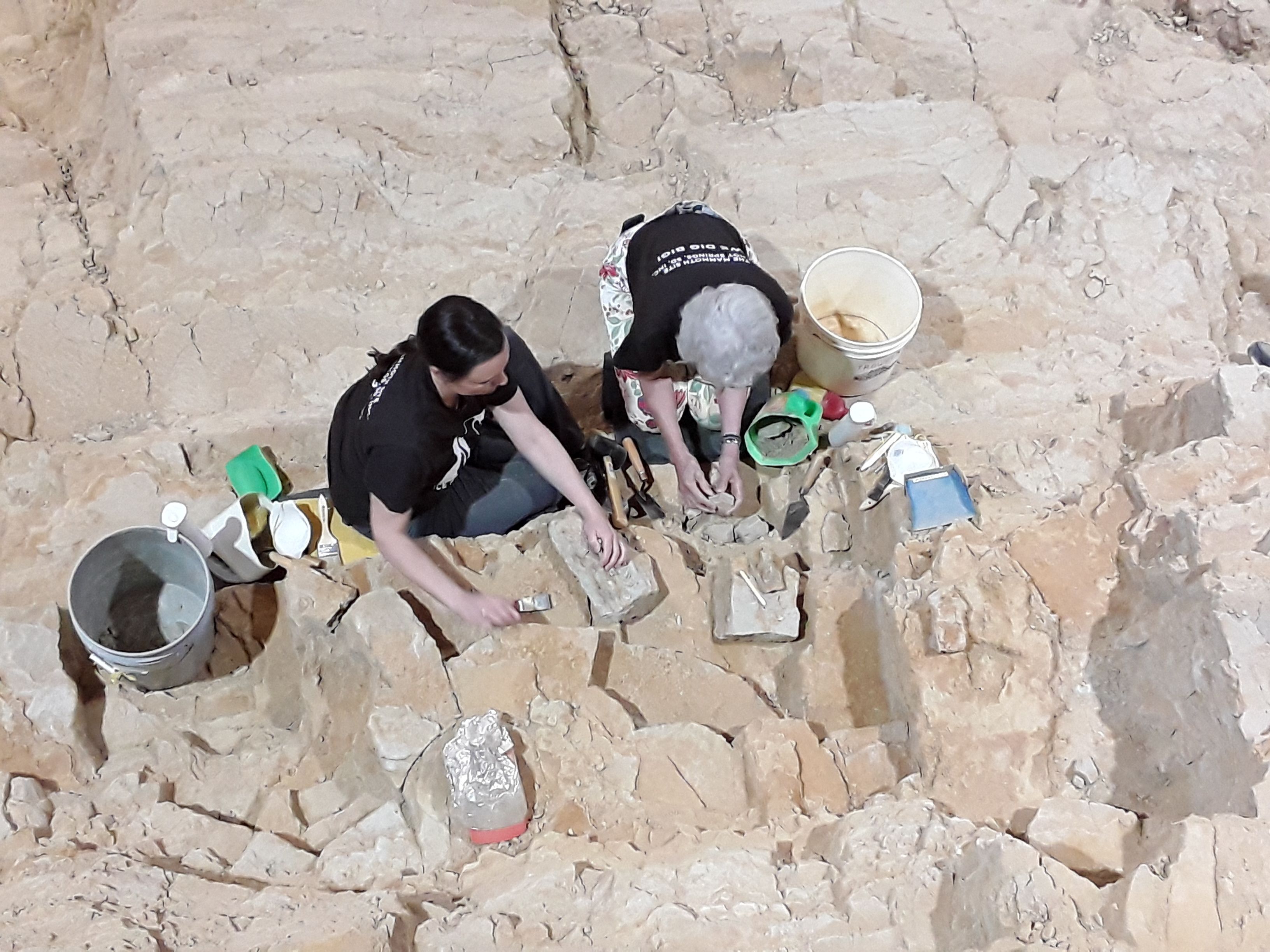 Two Participants in Ice Age Explorers Program
In most cases, discovery is a game of luck, and we cannot guarantee that every participant will find a bone. One person may find several, another may unearth snail shells, and a third might not find anything at all. Bone, shell, fragment, and pebble locations within the Bonebed are used to reconstruct how the Bonebed formed, where the animals were trying to climb out and where water was deeper or moving faster. By the end of the session, each person, whether they found a mammoth skull, a mouse tooth, or a bunch of pebbles, will have made a meaningful contribution to the ongoing research and preservation work of The Mammoth Site.
Preserving specimens in-situ presents a unique and exciting challenge. Our goal is not only to unearth more mammoth bones, but to investigate the site as a whole and ensure the long term preservation and safety of the Bonebed. Your personal excavation projects may include excavation of relatively barren areas as wells as those more likely to produce bone, shells, etc. Each project is chosen by staff with the long term preservation of the Site in mind.
You may find that you would like to work more on other projects that we have going on at The Mammoth Site-such as the tropical marsh deposit of Terapa, in northcentral Sonora, Mexico where you would work on ground sloth, bison or capybara. Maybe you want to work on the bone-laden sediments from nearby Persistence Cave, or maybe the sediments from the Channel Islands off of California where we have recovered pygmy mammoths. Aspects of these projects that participants can work on include sorting bone from sediments or preparing and carefully removing bone of a large mammal from a plaster jacket. These other projects are designed to be rewarding experiences for our participants who will be providing critical help with scientific research.
To register call 605-745-6017 or email mayab@mammothsite.org.
Cost:
Dig-$700.00 per week during the four-week excavation
Hotel Option-$550.00 per week (additional)
Dinner Option-$150.00 per week (additional)
The total cost for a two-week session with hotel and meals is $2,800.00.
Lunch will be provided Monday-Friday each week the participant is here. You are responsible for your lunch and dinner on the weekends.
Dig weeks are Monday to Friday. Weekends allow you to explore the hills on your own.
10% Deposit of Total for the Ice Age Explorers Program.
To download the Ice Age Explorers Introduction Booklet Click Here