A Mammoth Family Adventure
Sample of Mammoth Site Family Fun Itinerary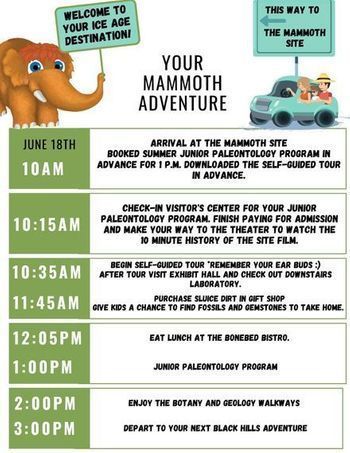 Self-Guided Tours
Steps:
Download the Self-Guided Tour App through the Google Play Store or on the Apple Store before you arrive at The Mammoth Site.
Pay Admission 
Go on a tour on your own or with the group you are with, following the self-guided tour app on your phone.
Summer STEAM Educational Programs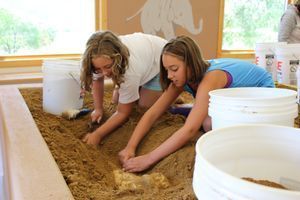 Jr. Paleontology Program
This educational simulated excavation for "Junior Paleontologists" ages 4-12 is held 7 days a week at the Mammoth Site from June 1st through August 15th. Sessions are 10am, 12pm, 1pm and 2pm daily. 
The Jr. Paleontologist Program fee for each child is $11.06 + tax. Regular Museum admission is not included in the Junior Paleontologist Excavation fee.
NEW! Family Dig Program
NEW for Summer 2022, The Mammoth Site is excited to launch the Family Dig Program!
The Family Dig is a paleontology class designed for the whole family. In this class families will work together to excavate fossils in a simulated dig site. Lead by a qualified guide, participants will learn how paleontologists discover and excavate a site, using the same tools we use in the Bonebed. Families will learn why we excavate fossils, how we preserve fossils, and what fossils can tell us about a changing world. This class is a hands-on experience excavating and jacketing fossils, creating a jacket shell you can take home as an educational souvenir, along with an informational note book and certificate. At least one parent/guardian is required per family with a max of 6 participants per reservation.
Price is $48 plus tax per family.
Atlatl Throwing Classes
The Mammoth Site's Atlatl Program explores the early ways humans hunted. Atlatls, or spear-throwers, have been found across the world. In this class, participants will learn what an atlatl is, why it was used, and how humans and Ice Age animals, like mammoths, interacted. Participants will then get to try their hand at throwing darts, using atlatls, at replica targets. This class is for participants 8 and older, with sessions held daily at 9am and 3pm at a cost of $12.00 plus tax per person. Closed toe shoes required.
Click here to register for one of these programs.
Sluice
A fun outdoor activity, the Sluice is typically open from Memorial Day to Labor Day but is dependent on the South Dakota weather.
Bags of fossils, gemstones, or a combination of both can be purchased at the Bonebed Bistro or inside the Gift Shop.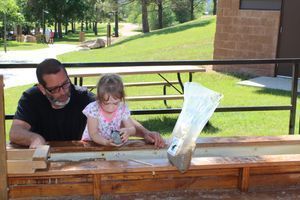 Nature and Geology Walkways
Take a stroll on our Nature and Geology walkways. These walkways focus on STEAM Education and provide a deeper understanding of the Ice Age as you travel back in time. 
Bonebed Bistro
Getting hungry on your family adventure at The Mammoth Site? Enjoy a bite to eat at our Bonebed Bistro while enjoying the outdoors. The Bonebed Bistro offers a variety of foods from pizza, hot dogs, nachos, and daily specials.