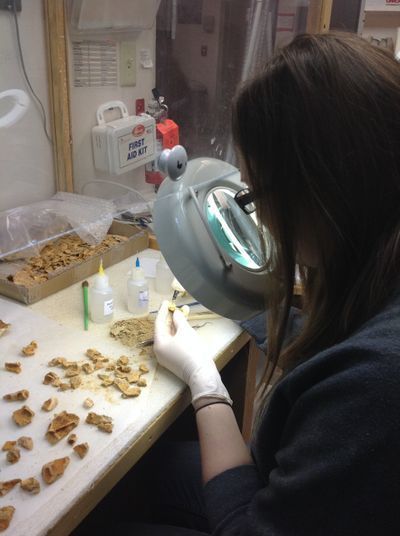 Conservator/Preparator – Full Time
Be a part of an innovative and exciting team of professionals to help expand the Division of Research at one of only two accredited museums in the beautiful Black Hills of South Dakota. 
The Mammoth Site is a 501(c)(3) Nonprofit Organization that is an educational and research facility that is funded mainly by tourism, grants, donations, and memberships. We are an active paleontology dig that boasts the remains of over 60 mammoths making us the most extensive collection of Columbian mammoths in the entire world. We have an active Geospatial Center, with ArcGIS software, 3D scanning, and 3D printing capabilities. The new Mammoth Site Field Station has plans to be a premier Field Station in the region providing educational programming and research opportunities for visiting students and researchers from all across the globe. Over 100,000 guests walk through our doors each year for guided tours of the in-situ Bonebed, view into the preparation lab and molding and casting lab, or participate in school field trip programming. 
The Conservator/Preparator will be working closely with the Curator and Director of Research to preserve and conserve fossils at The Mammoth Site. This position will be focused on the long-term preservation of fossils and sediments within the in-situ Bonebed. This individual will be an integral member of the Division of Research and will act as the point person for conservation techniques. Throughout the year, the Conservator/Preparator will also assist with outreach activities and exhibit planning as needed. 
The Mammoth Site sits at the southern edge of the beautiful Black Hills in the cozy town of Hot Springs. Known as the Southern Gateway of the Black Hills, Hot Springs downtown has distinct sandstone architecture, naturally warm water springs to soak in, and great weather year-round.  Public school children will learn in small class sizes and have access to multiple parks throughout the town. Many starter homes are available in the area, some of which provide lovely views of the Black Hills. 

1.    Excellent learning opportunities
2.    Engaging environment
3.    Collaborative team
This is a full-time, year-round, and hourly position, with benefits. 
Find the full job description here. 

Individuals interested in the position should submit their cover letter, resume/CV, and names of 2 references through The Mammoth Site application below. In addition, please have two letters of recommendation sent to Dr. Sharon Weaver at sharonh@mammothsite.org with the subject title CONSERVATOR/PREPARATOR. These letters of rec should be from two different individuals than those listed on your application. Eligible candidates will be emailed to set up an interview via Skype or in-person at The Mammoth Site beginning November 15th. This position will remain open until filled with the proper candidate. 
 
Please submit your Conservator/Preparator application below.
---
Conservator/Preparator Application