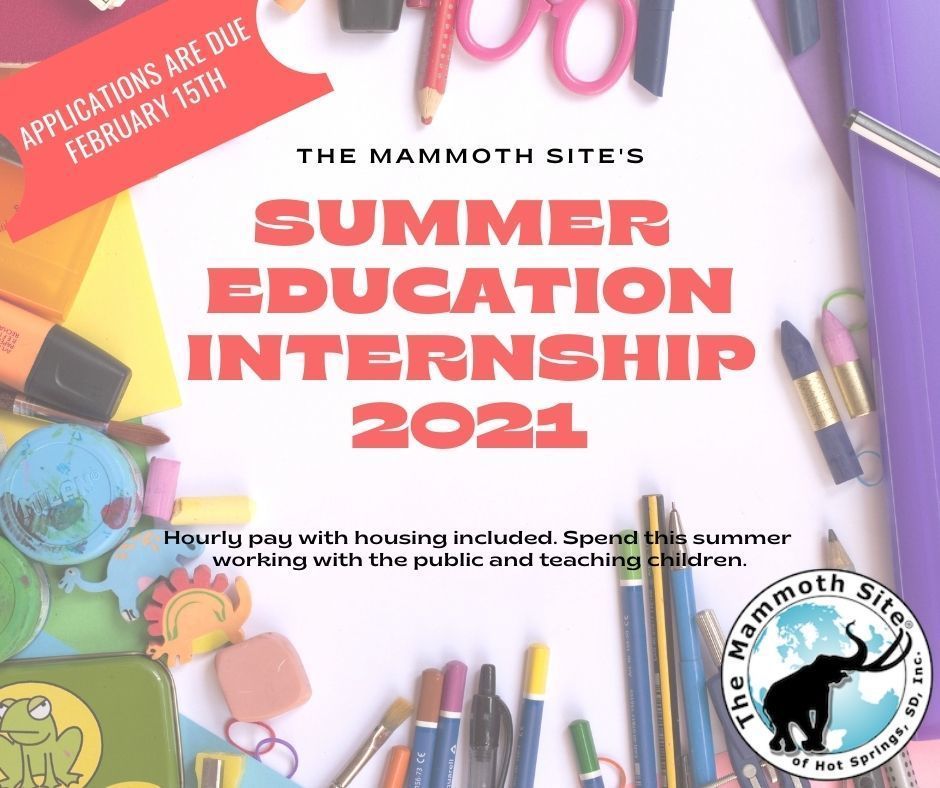 Help us educate the public about the Ice Age! Spend the summer teaching children about paleontology, excavation, and fossils in our hands-on classes. Walk around and talk to the public about our Bonebed featuring the remains of over 61 mammoths and many other Ice Age fossils. This summer will be filled with science education and fun!
Internship Details
Our seasonal internship starts in May and ends in August. The position includes:
Up to 40 hours per week for 10-16 weeks (will include some weekends).
Compensation: $9.50/hour with onsite housing*.
*Housing: Housing is provided to interns as part of compensation on Mammoth Site property. Housing is near The Mammoth Site, within the town limits of Hot Springs, SD. Laundry facilities are available on site.
Application Deadline: February 15, 2021
Preferred Qualifications
Public speaking and/or docent work.
Experience in customer service, education, program delivery, and development. 
A working knowledge of Microsoft Word.
Background knowledge or enthusiasm for earth science and biology.
Minimum Qualifications
Undergraduate (or higher) in the following or related majors: primary, secondary, and/or science education, anthropology/archaeology, biology, geology, or museum studies.
Availability to start work on or prior to May 16, 2021 and continue through August 15, 2021. 
Basic experience (≥3 months) public speaking, teaching, and/or work with children.
Good organizational skills and attention to detail.
Solid interpersonal skills, with the ability to work independently or as part of a team.
You must be able to lift 30-40 lbs. This is paramount to your work here at The Mammoth Site; the primary educational responsibility of a Mammoth Site intern is leading Junior & Advanced Paleontologist classes. These classes involve repetitive lifting of buckets full of sediment.
International Students - You must be at least in your second year at a US academic institution, have US citizenship, or previously established work visa to be considered. 
*This internship is an education internship and does not include excavation experience within The Mammoth Site Bonebed
How to Apply
Application packets submitted on the website will include: Cover letter, current CV, and unofficial university transcript(s). Two academic references are to be emailed to Dr. Weaver at sharonh@mammothsite.org
All materials are due February 15, 2021. 
Click here for the 2021 Summer Education Internship flyer!
Contact: Dr. Sharon Weaver, Curator at sharonh@mammothsite.org or call 605-745-6017 for more information.
Please submit your internship application below.
---
Internship Application